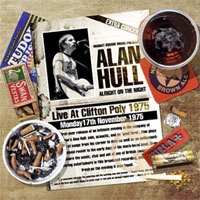 The recorded legacy of the genius behind one British folk rock's best-loved and most enduring acts, Lindisfarne, resides not only his band's back catalogue but in Alan Hull's acclaimed solo albums, all of which remain in print nearly 20 years after the maverick song-writer's untimely death in 1995.

Powerful reminders of Hull's talent as these are, none capture the magic and magnetism inherent in his live performance.

Recorded in November 1975 at Nottingham's Clifton Polytechnic, "Alright On The Night" (Market Square; MSMCD152) puts matters right, with Hull evidencing brilliantly how he could win over an audience with warmth, wit and a generosity of spirit.

With the Mk II line-up of Lindisfarne disbanded after the release of their second album, 1974's 'Happy Daze' (also reissued on Market Square, MSMCD148), Alan had gone on to record 'Squire' for Warners. Its strong critical and public reception afforded him the opportunity to play some solo dates.

The Clifton Poly set list contains a mixture of songs. From 1973's debut solo album 'Pipedream' came 'Breakfast' and 'Money Game', while 'Squire' was represented by the title track, 'Dan The Plan' and 'One More Bottle Of Wine'. The only song from 'Happy Daze' was 'Gin & Tonix All Round', while the Lindisfarne Mk I era was revisited with 'Alright On The Night', 'City Song', 'Fog On The Tyne', 'January Song', 'Lady Eleanor', 'We Can Swing Together' and 'Winter Song'.


ALAN HULL
Alright On The Night
Live at Clifton Poly 1975
Squire
City Song
Dan the Plan
Breakfast
Money Game
January Song
Cheeky Mouse
Gin & Tonix All Round
One More Bottle Of Wine
Winter Song
Alright On The Night
We Can Swing Together
Fog On The Tyne
Lady Eleanor
---
There's also a short, hitherto unknown instrumental piano piece about, in Alan's words, 'a very cheeky mouse that used to steal cheese'!

Self-accompanied on acoustic guitar and piano, the near hour-long set reveals Hull the entertainer: warm, witty, exercising easy repartee with an appreciative audience not shy of coming forward to join in. Intimate, close-miked, this wonderful testament to his talent sees the light of the day for the first time.

A must-have for fans, collectors and the curious, the CD comes in a 6-panel digipack with previously unpublished period photographs and notes by Lindisfarne archivist Jim Henderson in a limited edition pressing of 1000 units.
---
See also >>