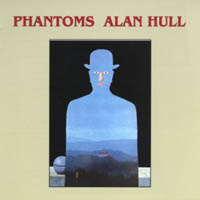 When Brit folk rock faves Lindisfarne split in 1973, co-founder Alan Hull forged a successful solo career with albums 'Pipedream' and 'Squire'.
By late 1977 the band was back in business but by then Hull was fronting new band, Radiator with former members of Snafu and Ginger Baker's post-Cream group Airforce.
With this line-up he would release Isn't It Strange, the majority of which was repackaged in 1979 for Phantoms – both for Elton John's Rocket Record Company.
This first time CD reissue on Market Square compiles these albums (removing track duplication) and adding five bonus demos from 1975.
The collection forms a lasting reminder of Hull's fluid, deceptively catchy, and pleasing melodies, and rich, deeply evocative phrasing and imagery.
A 12-page booklet features extensive notes and previously unpublished photos.

ALAN HULL
Phantoms
TRACK LISTING:
I Wish You Well
Anywhere Is Everywhere
Make Me Want To Stay
Dancing (On The Judgement Day)
A Walk In The Sea
Corporation Rock
Madmen And Loonies
Somewhere Out There
Love Is The Alibi
Love Is The Answer
Isn't It Strange
Spittin' In The Wind
Lay Back And Dream
Something Got The Better Of You
Somewhere Out There
Raw Bacon
A Walk In The Sea
Evening
Dancing (On The Judgement Day)

---
Audio : I Wish You Well
---
See also >>