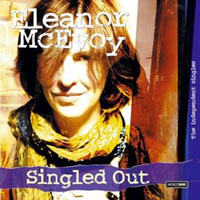 A fifteen-track overview of the singles output of the acclaimed Irish singer-songwriter kicks off with the exuberant and powerful 'Oh Uganda' (Eleanor's impression of the country which she visited supporting an Oxfam Ireland programme there), and also includes the radio hits 'Days Roll By', 'Non Smoking Single Female' and 'Old, New, Borrowed and Blue'.

The songs are all by Eleanor, apart from two, (a stunning take on Marvin Gaye's 'Mercy, Mercy Me' and her female twist to the timeless Rodney Crowell classic 'Shame on the Moon').

A bonus video clip of 'Wrong So Wrong' completes the collection. 'Oh Uganda' is a brand new track and is released as a new single.

All other tracks are new mixes or new masters of the songs taken from the albums 'Yola', 'Early Hours', 'Out There' and 'Love Must Be Tough', and to accompany these tracks, the original artwork for each track is featured in the booklet.

ELEANOR McEVOY
Singled Out
1. Oh Uganda
2. Isn't It A Little Late
3. Did I Hurt You
4. I'll Be Willing
5. Make Mine A Small One
6. Days Roll By
7. You'll Hear Better Songs Than This
8. Non Smoking Single Female
9. Suffer So Well
10. Mercy Mercy Me
11. Wrong So Wrong
12. Love Must Be Tough
13. Old New Borrowed And Blue
14. Easy In Love
15. Shame On The Moon
16. Suffer So Well


---

Oh Uganda

Did I Hurt You
Like this, try this...



---