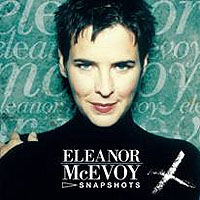 At long last Eleanor McEvoy's epic and inspiring album 'SNAPSHOTS' is available as a limited COLLECTORS EDITION (MOSACD305).

A pivotal album in her career, this is the moment when Eleanor moved from a band format to a singular creation and vision of her own music.

Legendary producer Rupert Hine provided the space, momentum and the production role for this most original work. Recorded in a chateau in France and at Metropolis Studios in London, this is her most structural musical endeavour.

The album is best known for the YouTube hit 'Sophie' the mini drama 'Did You Tell Him?' the pure velvet of 'Wrapping Me Up in Luxury', the ode to slaughtered Irish journalist Veronica Guerin 'Easy to Lose Hope' and the wonderful tongue in cheek country of 'Please Heart, You're Killing Me' (co-written with Rodney Crowell).

This new COLLECTORS EDITION has been totally re-mastered from the original mix.


ELEANOR McEVOY
Snapshots
1. There's More To This Woman,
2. All I Have - with Caroline Lavelle,
3. Did You Tell Him?,
4. Please Heart, You're Killing Me - with Rodney Crowell,
5. To One Who Didn't Know You,
6. Now You Tell Me,
7. Wrapping Me Up In Luxury (Until The Morning Comes),
8. She Had It All,
9. Territory Of Poets,
10. Sophie,
11. Easy To Lose Hope.


---

Territory of Poets

Did You Tell Him?
Like this, try this...



---