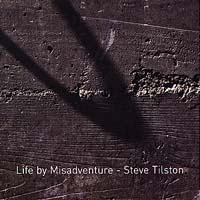 Steve Tilston is acknowledged as one of folk music's finest guitarists as well as being an outstanding singer/ songwriter. He has been performing and touring regularly worldwide since the mid-1960s and has made a host of critically and publicly-lauded albums during the period. His work has been likened most particularly to that of other English performers of his generation, Nick Drake and John Martyn. Steve made his recording debut in 1971 with An Acoustic Confusion and followed this with a series of releases through the 70s and the early 80s.
Life By Misadventure was first released in 1987 on the Run River label. Says Steve: "The opener, These Days, was very much an anti-Thatcherite song. I felt that this period in Britain was marked by a few doing very nicely thank you, but far too many who were not."
"There are a quite a few personal songs on the album too, including Here Comes The Night, which I still play today and is very popular in the clubs. Sometimes In This Life is my secular hit, my celebration of life."
The arpeggione playing of Tilston made its debut on his next outing with Run River in 1990, Swans At Coole, the highlight of which Rhapsody took up an entire side of the vinyl album release, and is featured on this release as a special extra track.
The album marked a departure from Steve's usual and noted role as an outstanding singer/songwriter to focus on his equally extraordinary gifts as arranger and multi-instrumentalist. This wholly instrumental Celtic suite is a beautiful work from start to finish, evoking traditionalism yet at the same time picking up on classical and new age influences along the way.

STEVE TILSTON
Life By Misadventure
TRACK LISTING:
1. These Days 2. Nowhere To Hide 3. Here Comes The Night 4. I Call your Name 5. Lazy Tango 6. Life By Misadventure 7. Lovers and Dreamers 8. Polonaise 9. Tsetse Fly Shuffle 10. Sometimes In This Life 11. Rhapsody

---
Audio : Sometimes In This Life
"… this is music that "thrives on rare and demanding intimacy" and this sums up "Life By Misadventure" as well as anything. The results are richly melodic, enchanting and typically understated." Bhi, Folk On Tap
"… exudes that characteristically relaxed and charming good-time feel from the very opener … full of the laid-back joys of summer. O, what a delightfully fine album this is." David Kidman, Folk Roundabout/Rock 'N Reel
"Steve is that very rare combination of singer/songwriter and guitarist who actually excels in all departments" FOLK ROOTS

"His musicianship is beyond question, while the arrangements set a standard against which other acoustic guitar albums ought to be measured." WEEKEND TELEGRAPH
"Without doubt a modern-day masterpiece." ROCK'N'REEL
"I can't listen to this one without closing my eyes in rapt attention to the sheer beauty of the music -truly a masterpiece." DIRTY LINEN
"... the romanticism is his early work has evolved into a combination of classic folk-baroque stylings and keenly-observed social realism lurking behind the kind of literate, oblique lyricism that few people seem willing or able to write these days. This gem is his most intoxicating single work." MOJO
---