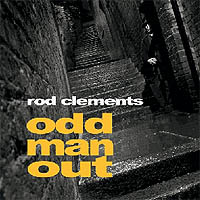 From the beginning of Lindisfarne to his current solo album 'Odd Man Out', the career of Rod Clements reads like a who's who of contemporary British folk roots.
After three decades in the business spanning over thirty albums and several chart hits, Rod Clements is… "a man emerging from the Lindisfarne years and carving his own unique furrow in inimitable style" (BBC Radio Scotland).
Rod's latest album shows him to be a consummate artist who has never rested on his laurels, either as a songwriter or as a live performer, and whose future is assured as…
"a cult artist in the making."
(Simon Jones, music writer)

ROD CLEMENTS
Odd Man Out
TRACK LISTING:
All Grown Up & Nowhere To Go - Existentially Yours - Taking The Back Road Home - Dead Man's Karaoke - Odd Man Out - Touch-me-not - Ragtown - New Best Friend - September Sunrise - Morocco Bound

---
Audio : Taking The Back Road Home
Touch-me-not
---