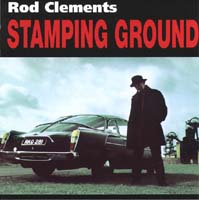 ROD CLEMENTS stepped forward to take up writing, and fronting one of folk rock's most enduring names, Lindisfarne, on the death of Alan Hull in 1992.
Rather than fall apart as many do when a mainstay goes, Lindisfarne forged on, fortified by Clement's assured contribution to writing and an increasing prominence within the line-up.
Two tracks here, Old Blue Goose and Hattie McDaniel (a song about the first black artist to win an Oscar) feature just Rod's voice and dobro, while for more rock-oriented tracks like Whisky Highway, Blue Interior, Whole Lifestyle Thing and Black Rain, Rod fronts a band built around Dave Denholm and Ian Thomson on guitars and bass, backed by 10cc's Paul Burgess on drums.

ROD CLEMENTS
Stamping Ground
TRACK LISTING:
Stamping Ground - Whisky Highway - Blue Interior - Hattie McDaniel At The Oscars 1939 - Whole Lifestyle Thing - Charity Main - Roads Of East Northumberland - Black Rain - We Have To Talk - Cowboy In The Rain - One More Night With You - Old Blue Goose

---
Audio : One More Night With You
---
… a cracking CD and high on my 'road music' although, really, I probably need a Chevy pick-up to play it in
Dai Jefferies, Rock 'N Reel
" **** … a really excellent album … highly recommended …" Country Music People
" … this is a stunning musical and lyrical album. Go buy and hear for yourself." Country Music International