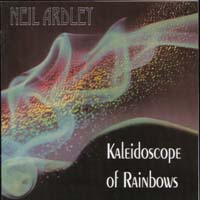 'Kaleidoscope Of Rainbows' (1976) completed a trilogy of albums and was composed between 1973 and 1975 as a seven-part work for jazz orchestra and performed by an augmented version of Ian Carr's band Nucleus.

Neil Ardley had been commissioned in 1974 by the London Borough of Camden to write a new work to mark the first major jazz festival in the UK for many years. It was held at the Roundhouse in London in October of that year. He had decided to extend the ideas worked out in the previous two albums to complete the trilogy.

'Kaleidoscope of Rainbows' toured England the following year under the auspices of the Contemporary Music Network of the Arts Council and became its most successful attraction. A final concert before a packed house at the Royal Festival Hall was so well received that Gull Records decided to record and release Neil's creation.
This Dusk Fire recording was 24 Bit 96 k/Hz digitally-remastered by Miles Showell at Metropolis Mastering, London, December 2004, using original master tapes.
---
MUSICIANS
Neil Ardley: director, synthesiser
Bob Bertles: alto, soprano, flute
Paul Buckmaster: acoustic, electric cello
Ian Carr: trumpet, flugelhorn
Geoff Castle: electric piano, synthesiser
Tony Coe: tenor, clarinet, bass clarinet
Dave Macrae: electric piano, synthesiser
Roger Sellers: drums
Ken Shaw: guitar
Brian Smith: tenor, soprano, flute, alto flute
Roger Sutton: bass guitar, electric bass
Barbara Thompson: alto, soprano, flute
Trevor Tomkins: percussion, vibraphone

NEIL ARDLEY
Kaleidoscope of Rainbows
TRACK LISTING:
1.Prologue/Rainbow One (soloist Ian Carr and Brian Smith) 10.26
2.Rainbow Two (soloist Dave Macrae and Geoff Castle) 7.34
3.Rainbow Three (soloist Paul Buckmaster) 3.28
4.Rainbow Four (soloist Barbara Thompson) 6.15
5.Rainbow Five (soloist Tony Coe) 4.25
6.Rainbow Six (soloists Ken Shaw and Bob Bertles) 7.39
7.Rainbow Seven/Epilogue 14.56

---
Kaleidoscope Of Rainbows
by Neil Ardley

Produced by Paul Buckmaster and engineered by Martin Levan at
Morgan Studios, London, 1976

---
"It's beauty and superb sense of structure will mark it out, in no uncertain terms, as one of the great musical achievements of our age."
Karl Dallas, Melody Maker

"The brisk alteration of moods and textures keeps the listener on the edge of his seat ... stunning variety."
Dave Gelly, The Observer

"... a classic."
Brian Case, New Musical Express

"... made to be savoured, enjoyed and, maybe, thought about a bit ... within it lies a part of the musical future."
Derek Jewell, The Sunday Times
---
Also available: