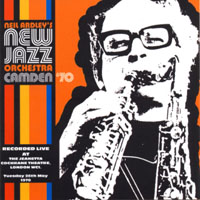 Between the NJO's first album, Western Reunion (Decca, 1965) and second, Le Déjeuner sur l'Herbe (Verve, 1968), Neil Ardley's writing had matured to a point where it was showing serious signs of outgrowing even the highly flexible instrument that the orchestra had become.
Under his guidance, the band was now also playing new music by a whole crop of young composers - Mike Taylor, Michael Garrick, Howard Riley and Michael Gibbs among them.

The line-up on this session was substantially the one that had recorded Déjeuner, although there were a few significant absentees including Ian Carr, who was by now touring the world with his pioneering jazz-rock band, Nucleus.

The programme that night was essentially the orchestra's current concert set and drew heavily on Le Déjeuner sur l'Herbe, which was still current and selling well. Of the eight numbers on the album, seven are included here (tracks 5 to 11).
Stratusfunk, the usual opener, is a blues piece by George Russell and most likely featuring orchestration here by Paul Rutherford. Tanglewood '63 by Mike Gibbs follows: Gibbs had settled in London in 1965 and by 1970 had become a leading voice in the jazz-rock movement, of which this is a pivotal example. Shades of Blue is one of Neil Ardley's early compositions, and something of a British jazz classic.

Rope Ladder To The Moon is by Jack Bruce, who played bass on Déjeuner. It appears on his 1969 album Songs For A Tailor. Michael Garrick's Dusk Fire was also the title piece of a Rendell-Carr Quintet album, as well as appearing on Déjeuner.
John Coltrane's Naïma was arranged for the orchestra by Alan Cohen; Nardis, by Miles Davis contains some characteristic Ardley scoring; Study, a short piece by Spanish guitarist Andres Segovia, was arranged by Mike Taylor with additional orchestration by Neil Ardley.



NEIL ARDLEY'S NEW JAZZ ORCHESTRA
Camden 70

1.Stratusfunk
2. Tanglewood
3. Shades Of Blue
4. Rope Laddet to the Moon
5. Dusk Fire
6. Naima
7. Nardis
8. Sturdy
9. Rebirth
10. Ballad
11. Le Dejeuner sur L'Herbe
12. National Anthm & Tango
---
Mike Gibbs' Rebirth is happy, even triumphant in this setting and Ardley's fetching arrangement of Mike Taylor's Ballad is followed by grand finale, Le Déjeuner sur l'Herbe.

"Even after all these years, I don't think people realise what a revolutionary piece this was. And still is - because no-one has really followed it up. What Neil Ardley did here was present a whole new way of composing for the jazz orchestra," observes Gelly in his notes.

"Jazz composers all pay lip-service to Ellington, but Neil is one of the few who could actually bring off the kind of fortuitous perfect moment that Duke regularly drew from Cootie or Tricky Sam."

Last up on this 78 minute set is the drole National Anthem and Tango. Ardley wrote quite a few musical jokes and parodies, and this is one of them.

Camden '70 measures the extraordinary capabilities of a talent pool the like of which was not to be seen again in a jazz orchestra.
This release (DUSKCD105) marks the recording's debut and, together with notes from Gelly and sound engineer Martin Mitchell (on the master tapes restoration) and period images, makes for a truly exciting addition to the jazz and jazz rock aficionado's collection.
Also available: