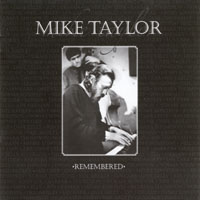 One of the most gifted British jazzmen of his age, and one of the most audacious musical pioneers of all time, Mike Taylor died tragically young in late January 1969.

There is no exact date for his death. His body was pulled out of the Thames estuary, near Southend, England. He had been in the water for some time and it took the police more than a week to make a positive identification. He lies buried at Leigh-on-Sea, Essex.

Speculation continues as to whether his death was an act of suicide or misadventure. What was only too apparent to friends and colleagues was Taylor's physical and mental decline, and the collapse of his career, caused by excessive drug use.

Mike Taylor left just two albums (Pendulum and Trio), together with co-writes with Ginger Baker for Cream's Wheels Of Fire album. Yet today, he is fast attaining cult status for his breadth of vision coupled to highly original composition and performance.

Over the following few years Taylor's music received growing exposure. Four months after his death, Jack Bruce and Dave Gelly assembled a small band for a special edition of BBC Radio's Jazz Workshop in tribute to their former colleague.

Gelly directed a concert of his music at the London School of Economics towards the end of the year.

A programme of songs by Taylor and Neil Ardley was broadcast in BBC Radio's Jazz In Britain series in October 1970.

The New Jazz Orchestra kept several Mike Taylor pieces in its repertoire, notably 'Half Blue', 'Ballad' and the challenging 'Pendulum', in Neil Ardley's orchestration, including them in concerts and broadcasts.

A version of Taylor's 'Jumping Off The Sun' was featured on Colosseum's US album, The Grass Is Greener.

Mike Taylor Remembered is the most fulsome tribute of all. Recorded over two days in June 1973, at Denis Preston's Lansdowne Studios in London, it collects a trove of Taylor compositions, performed by a veritable who's who of modern British jazz, with around twenty musicians contributing differing orchestration for each of the ten album's 10 pieces.

This collective brought a personal approach to the material providing the resultant recordings a rounded impression of its composer's musical personality and the breadth of his talent.

Jon Hiseman and Barbara Thompson knew Mike intimately and worked on much of this music with him; Ian Carr, who originally introduced Mike Taylor to Denis Preston, recorded two albums by Mike Taylor; Neil Ardley, as leader of the New Jazz Orchestra directed performances of his orchestral music; Henry Lowther and Dave Gelly featured Mike's music with their own bands; and Norma Winstone was one of the few singers able to sing his extraordinary songs.

The recording album of Taylor's surviving orchestral music, jazz tunes and songs served both as a memorial to him and to preserve his work as a composer and song writer for posterity.

Released now, for the first time, Mike Taylor Remembered. (Dusk Fire; DUSKCD103) presents the full set list, re-mastered from Neil Ardley's original tapes, and includes a generous 20-page booklet with extensive booklet notes on Taylor and the album's recording by Dave Gelly complemented by previously-unseen photography.

The album gets a vinyl LP release in August on Jonny Trunk's Trunk label.


MIKE TAYLOR
Remembered
TRACK LISTING:
Half Blue : Pendulum : I See You : Son of Red Blues - Brown Thursday : Song of Love : Folk Dance No 2 : Summer Sounds : Land of Rhyme in Time : Timewind : Jumping Off The Sun : Black and White Raga
---
Summer Sounds
---
MUSICIANS
Tony Fisher, Greg Bowen, Henry Lowther, Ian Carr (trumpets, flugelhorn) : Chris Pyne, David Horler (trombones) : Ray Premru (bass trombone) : Barbara Thompson (flute, alto flute, soprano sax) : Ray Warleigh (flute, alto sax) : Stan Sulzmann (flute, alto sax, soprano sax) : Bob Efford (oboe, tenor sax, bassoon) : Dave Gelly (bass clarinet, clarinet, tenor sax) : Bunny Gould (bass clarinet, bassoon) : Peter Lemer (piano, electric piano, synthesizer) : Alan Branscombe (vibraphone) : Chris Laurence, Ron Mathewson (bass, bass guitar) : Jon Hiseman (drums, percussion) : Neil Ardley (director) : Norma Winstone (vocal)