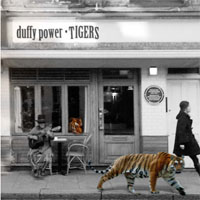 'He was there when it was skiffle, there in the brief heyday of British rock'n'roll, in the first flowering of British blues, there in the cellars of the British folk underground, on the first searchings for a fusion of jazz and rock, there among the mayflies in the baroque-pop of the Summer of Love, there at the birth of the progressive-rock era, there in the heyday of Northern Soul, there - just about - in the backdraft of Disco. And then, it seemed, he was gone.' (Colin Harper)
Yet of course, he wasn't. While the years passed, the very private Duffy Power ticked away in his London home. It took gentle and steady persuasion/attention to prise him out and back into the studio and Colin Harper played a role here, too, interviewing him for the writer's acclaimed biography of Bert Jansch - 'Dazzling Strangers' - and sourcing contributions for Jansch covers project 'People On The Highway - A Bert Jansch Encomium' as well charity fund-raising compilations 'The Wildlife Album' and its successor 'Live in Hope - the Wildlife Album Vol 2', all released on the Market Square label between 2000 and 2006.
Between 2000 and 2006 Harper and fellow session musicians joined Duffy in the studio to lay down the tracks for 'Tigers' (an exception, 'Spaces' recorded in 1996 with the late Dick Heckstall-Smith).
Harper recalls the time as creatively very fruitful period for Duffy: 'Duffy was finding a whole new avenue of sound to explore between himself and his guitar and, thank God, he has had the sense of purpose to keep working on that material and to allow it to be issued in album format as a cohesive body of work,' he reflects.
Fourteen tracks of sanguine yet uplifting blues folk flecked with soulful jazz moments cross Power's own rich compositions with covers, most notably his take on 1950's hit 'Secret Love'.
The performances are considered and beautifully-paced but it's the voice that's most striking, a husky swoop of aching melancholia that never quite tires.
Colin Harper sums up Power perfectly as having had at various points on his journey, a hellhound on his trail. 'Tigers' reveals a man no longer, perhaps, wrestling with the darkness and frustration but hopefully more at peace with the world: a talent still every bit as compelling and brilliant as that of the restless firebrand of the past.

DUFFY POWER
Tigers
1. Sweet Again
2. Tigers
3. Johnny Too Bad
4. Whenever
5. Let's Go Home
6. To My Guitar
7. Big Legged Rosie
8. Spaces
9. Camping With Billie
10. Nine Lives Gone
11. Now And Then
12. Once Upon A Time
13. Secret Love
14. 'Til We Meet Again
---