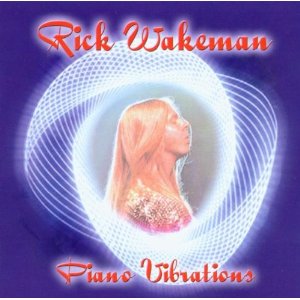 Released in April 2003. Now deleted. Originally released in 1971. In Rick Wakeman's own words:
"This was never meant to be a solo album and to be honest I certainly don't count it as a solo album in any respect. True it is a piece of history, but not one I'm proud of.

I was actually booked to play piano on a session at Pye Studios in London's Marble Arch and it was to play on some backtracks for an unknown singer who was due in later that week to put his vocals on.

Shortly afterwards I started having some success with Strawbs and the next thing we knew was that the album was being put out by PYE Records as "Piano Vibrations" with no vocalist and with a picture of me on the back.

I was unhappy and A&M Records, who had Strawbs and myself signed, were furious.

I received £9 for my trouble"

RICK WAKEMAN
Piano Vibrations
1. Take Me To The Pilot
2. Yellow Man
3. Cast Your Fate To The Wind
4. Gloria, Gloria
5. Your Song
6. Delta Lady
7. A Picture Of You
8. Home Sweet Oklahoma
9. Fire And Rain
10. Classical Gas