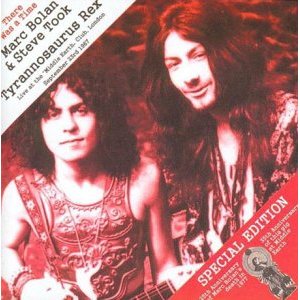 On 23 September 1967, Tyrannosaurus Rex played their first gig at the legendary 'Middle Earth' club in Covent Garden, London.
The venue hosted the likes of Pink Floyd in the late sixties. This CD features an embryonic T-Rex captured by a member of the audience and now sonically mastered.
Released in 2002 via T-Rex Action Group.

TYRANNOSAURUS REX
There Was A Time
1. Hot Rod Mama
2. Sara Crazy Child
3. Scenesof
4. Hippy Gumbo
5.Graceful Fat Sheba
6. Misty Mist
7. The Wizard
8. Mustang Ford
9. Menthol Dan
10. Beginning Of Doves
11. Child Star
12. Dwarfish Trumpet Blues
13. Knight
14. Chateau in Virginia Waters
15. Pictures Of Purple People
16. Lunacy's Back
17. Scenesof
18. Child Star
19. Hot Rod Mama
20. Dwarfish Trumpet Blues