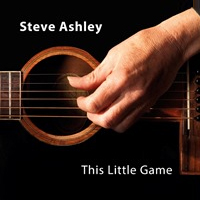 Long regarded as one of British folk's finest singer-songwriters, Steve Ashley adds a new release to a lifelong catalogue of critically-lauded albums - each distinct from the rest, all with cutting edge song-writing at their core.

From his award-winning debut, 'Stroll On' and the follow-up 'Speedy Return' - enriched with Robert Kirby orchestrations - to the Fairport-backed 'Family Album', the CND 'Demo Tapes', the Steve Ashley Band's edgy 'Mysterious Ways' and two fine releases for Topic Records: 'Everyday Lives' and 'Time and Tide', Ashley has consistently melded tradition with innovation and delivered intelligent and inspired English poetry amid beautifully distinctive and original melodies.

Coming on the back of Dave Thompson's acclaimed biography: 'Fire and Wine'- An Armchair Guide to Steve Ashley', 'This Little Game' brings a sharp focus to bear on the stages and challenges of life from the cradle to the grave.

And this time it's a solo journey, with just vocal and guitar, to share songs that celebrate the power of love in the face of militarism, injustice, loss and fading doctrines.




STEVE ASHLEY
This Little Game


Artist: Steve Ashley
Title: This Little Game
File: Folk/singer-songwriter
Label: Market Square
Cat: MSMCD168
UPC: 5065001032806
Rel: Feb 9th 2015

---
Track Listing:

Here's To All the Babies
Playground Days
People in Love
Rainsong
Summer's Come Again
That's Why
Time To Heal
Be True To You
Just Like The Leaves
The Last Deeds of Love
In Your Heart
All Will be Clear
---
• Packaged in an illustrated digipak, with full lyrics in a 12 page booklet.

• Established artist with comprehensive back catalogue available

• Touring artist


Also available on Market Square by Steve Ashley: