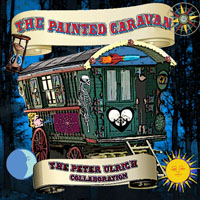 'The Painted Caravan' marks the evolution of Peter Ulrich's trademark sound and casts the net even wider than before, embracing the spirit of baroque pop, folk rock and global roots, to unique effect. A broad spectrum of musical collaborators play instruments ranging from dobro to oboe and everything in between, all of which are adorned by stunning guest vocals.
Mesmerizing grandeur, solemn beauty, intricate-craftsmanship and sonic depth are all traits deeply inherent within this album. The Painted Caravan is likely to appeal to fans of Richard and Linda Thompson, Smoke Fairies, Faun Fables, Beirut, Luminescent Orchestrii, PJ Harvey's quieter moments and, of course, Dead Can Dance.
The Painted Caravan was originally a concept developed by Ulrich and Trebor 'Big T' Lloyd -the CEO of City Canyons Records. The Peter Ulrich Collaboration's principal contributors are Peter Ulrich, Trebor Lloyd, David Steele, Anne Husick and Sara Wendt (formerly of cult band, Homer Erotic). Full credits are listed in the CD inlay.


THE PETER ULRICH COLLABORATION
The Painted Caravan
Track Listing:
1. In This Or Other Skin
2. Pureland
3. The Secret Gardener
4. Dark Lover
5. Starship (Golden Eye)
6. Children Of The Rain
7. Drug Of War
8. Hanging Man
9. Fanfare For The Lost Tribe
10. The Desert
11. Love's Skeleton
12. Tempest
---
The multi-instrumentalist Peter Ulrich is world-renowned for his drums and percussion work in the iconic Dead Can Dance and This Mortal Coil, plus his acclaimed solo endeavors; his first
record 'Pathways and Dawns' was once described as the album the Beatles might have made had they signed to 4AD instead of Capitol.