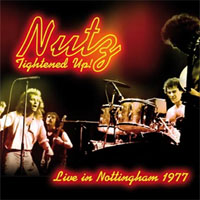 Recording for A&M, touring with Black Sabbath, wowing BBC TV's Old Grey Whistle Test...NUTZ!

A showcase for their third album for A&M ('Hard'), by the time these hard-rocking faves of the UK live scene recorded this top notch set back in March 1977 for a local radio station, they had honed their act to sweet perfection.
Until now unreleased in any format, it reveals the Liverpool bandís talent for melody and theatricality in a rolling blitz of tight, showy classic rock with glints of metal shining away under the surface.

Acclaimed by many musical peers of the day, including Jeff Beck, AC/DC, Ozzie Osbourne - loved by fans - Led Zeppelinís Peter Grant offered to manage them Yet, history reveals these boys were just too busy having a good time!

But then they were Nutz!

NUTZ
Tightened Up
Live in Nottingham 1977
1. Seeing Is Believing
2. Loser/Pushed Around
3. Down On My Knees
4. Sick And Tired
5. One More Cup Of Coffee
6. RSD
7. Beast Of The Field
8. Mylo's Solo
9. I Know The Feeling
10. Changes Coming
11. Wallbanger
12. Living On A Knife Edge
---
Recorded live at The Grey Topper Club, Nottingham, England, March 1, 1977 for broadcast by BBC Radio Trent.