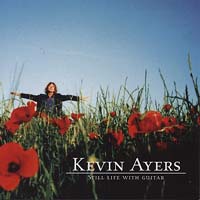 Market Square Records follows up its 2000 live set from cult rocker Kevin Ayers with a reissue of his 1992 offering "Still Life With Guitar", with bonus tracks in alternate takes from the album sessions - plus a previously unreleased track recorded in the back of a Majorcan taxi!
His 14th album release after splitting in 1969 with former Soft Machine colleagues to forge a solo career found Kevin Ayers consolidating on the strengths of his 1988 return to form "Falling Up" with this collection: songs of equal quality and assurance and a repertoire at ease in the company of material penned at the perceived heights of his career in the mid-1970s.
In addition to the quality of songs in evidence was sterling support from the likes of Mike Oldfield, Ollie Halsall, Danny Thompson, BJ Cole and Mark Nevin amongst other members of Fairground Attraction.

KEVIN AYERS
Still Life With Guitar
TRACK LISTING:
1. Feeling This Way 2. Something In Between 3. Thank You Very Much 4. There Goes Johnny 5. Ghost Train 6. I Don't Depend On You 7. When Your Parents Go To Sleep 8. MI6 9. Don't Blame Them 10. Irene Good Night
---
Audio : Ghost Train
"…captures perfectly the afterglow of the Summer of Love." Jewish Chronicle
"… the choice of material and the quality of musicianship and production makes this a very worthwhile item." Burton Daily Mail
"Truly sublime." Maverick
---