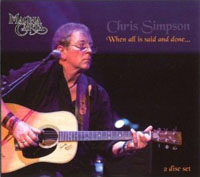 This 2-CD set features thirty songs that span forty years of writing, singing and performing.
Featuring songs recorded by Chris Simpson as a solo performer (or using a pseudonym) plus his work with Magna Carta this is a splendid career overview.
The album features contributions from a variety of musicians including Linda Simpson, Davey Johnstone (Elton John) Paul Burgess (10cc), and Vic Emerson (Sad Cafe).
CHRIS SIMPSON
When All Is Said And Done
Disc 1 - Greenfields/World In The Palm Of My Hand/Strangers In the Land Of Ulysses/Banjoman/Midnight Again/You/Evergreen/Wild Geese/For The Gypsy/Only Road Home/Sun Ain't Going To Rise/Pictures In My Pillow/Two Old Friends/Mixed Up Sensations
Disc 2 - You Are Only What You Are/Song For John/Time For Leaving/9lb Hammer/Wish It Was/Uncertain Times/When All Is Said And Done/Sting Of The Gin/Winterlude/Ulysses/Don't Stop Me/Danny/Some Kind Of Man/In Tomorrow/Autumn Dreamin' Blues/Lady, Take Me Down/Hey, Mr.Simpson