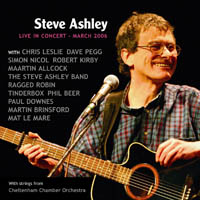 'Steve Ashley - Live in Concert', featuring the talents of some folk rock's finest plus an orchestra directed by Robert Kirby (Nick Drake, Paul Weller, Elton John), showcases Ashley's memorable canon and reveals a catalogue of innovation and diversity.
Poetic and melodic songs of delicate brevity are interlaced with challenging works of bold and powerful density, imbued with great wit and a common theme in a social narrative of English life.

Ashley, together with guests including Fairport Convention's Simon Nicol, Dave Pegg and Chris Leslie, Decameron's Dik Cadbury and Al Fenn and Show Of Hand's Phil Beer, deliver quality performances throughout that affirm their singular and collective talents.

The revisiting of Kirby's original string settings expand and enrich Ashley's more reflective work here to memorable and dramatic effect.
The concert also features reconvened line-ups of Ashley's former eponymous band, plus his debut 1960s act, Tinderbox and his '70's band Ragged Robin.

Among many highlights revisited in this special release is a brand new song, 'Ships of Shame' and a distinctive new Kirby setting for Steve's classic orchard song, 'Say Goodbye'.

Fifteen great tracks at mid-price make 'Steve Ashley - Live in Concert' a stocking-filler must this Christmas.

STEVE ASHLEY
Live In Concert
TRACK LISTING:
1 I'm a Radio 2.59
2 The Spirit of Christmas 3.19
3 None Can Tell 4.19
4 Springsong 3.13
5 Broken Wing 3.24
6 Well Well Well 4.27
7 The Well at the World's End 3.19
8 Back on the Road Again 3.37
9 The Weapon 4.03
10 Easy Come 3.17
11 Ships of Shame 3.46
12 Family Love 4.30
13 Once in a While 4.31
14 Feeling Lazy 3.51
15 Say Goodbye 6.47
---
Ships of Shame
---
MUSICIANS
Martin Allcock - Steve Ashley - Phil Beer
Martin Brinsford - Richard Bryers - Dik Cadbury
Brian Diprose- Paul Downes - Al Fenn
Steve Harper - Mat Le Mare - Chris Leslie
Dave Menday - Alleyn Menzies
Simon Nichol - Dave Pegg - Jim Sallis

Orchestra directed by Robert Kirby