Steve Ashley burst into English Folk's collective consciousness in 1971 with the song "Fire And Wine". Folk music critic Karl Dallas believes that Steve Ashley belongs to that select breed of post war singer-songwriters "who are archetypally traditional because they are totally contemporary".
Ashley therefore takes his place with such luminaries as Richard Thompson, the late Ewan MacColl and Peter Bellamy.
Close to a decade had elapsed since Steve Ashley's last album, but his return to action proved he'd lost neither his warm likeability nor his gentle melancholia in the meantime.

Mysterious Ways is a collection of brilliantly contrasting moods.

The opening "Back on the Road Again" is Ashley's statement of intent -- "I've been sitting too long beside that cosy fireside...I wanna be back on the road again"; and the band behind him sounds so exuberant that you can almost smell the fries and taste the diesel.

But there's a hint of homesickness just hanging around the hook and, as Mysterious Ways gathers speed, that musical contradiction recurs again and again. "Living in the USA" might sound jovial, and the lyrics are certainly eminently smirk-worthy.

But an Englishman's lament for his homeland's slide into fast food and faster culture is not a laughing matter, anymore than the locomotive rhythms of "Same Old Stories" can blind us to the social apocalypse that looms through the lyrics.


STEVE ASHLEY
Mysterious Ways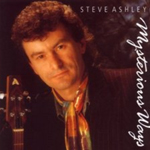 ---
Like this, try these...