Steve Ashley burst into English Folk's collective consciousness in 1971 with the song "Fire And Wine". Folk music critic Karl Dallas believes that Steve Ashley belongs to that select breed of post war singer-songwriters "who are archetypally traditional because they are totally contemporary". Ashley therefore takes his place with such luminaries as Richard Thompson, the late Ewan MacColl and Peter Bellamy.
Recorded in 1979 but unreleased until 1982, Steve Ashley's Family Album is one of those joyous little albums that crept out during the five or six years when punk and the new wave occupied everyone's attention, and the rest could scarcely get arrested.

The folk press lavished praise upon it, but it would take another decade, and a CD reissue on Road Goes On Forever, before the rest of the world caught up -- by which time Ashley himself was only just re-emerging from a vinyl silence that had consumed most of the decade.

Recorded with a Fairport-heavy accompaniment (and originally released on Dave Pegg's own label), Family Album is aptly titled; eleven songs amount to a virtual concept album, documenting the joys (and otherwise) of both raising and dealing with the responsibilities of family life.


STEVE ASHLEY
Family Album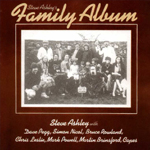 ---
Like this, try these...