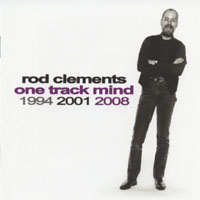 1994's debut solo album from Lindisfarne guitarist and hit songwriter Rod Clements, is re-released this July.

Retitled ONE TRACK MIND 2008, the album has been expanded to 17 tracks featuring Rod's solo versions of blues, folk and original classics, rare guitar instrumentals, and new recordings of previously unheard early songs.

Never widely available even at the time of its earlier releases, copies of One Track Mind have long been sought after by fans of Rod's music, Lindisfarne rarities and classic blues.

Rod had taken a break from his Lindisfarne duties to record a collection of the blues and folk standards that inspired him, throwing in solo versions of his own well-loved classics like "Meet Me On The Corner", "Road To Kingdom Come" and "Train In G Major".

Some tracks featured just Rod's voice and acoustic guitar, others enjoyed treatments of his fabulous electric slide work backed by Lindisfarne's then rhythm section, Ray Laidlaw and Steve Cunningham.

The result was 'One Track Mind', originally available only in limited-edition cassette format, reissued as a CD in 2001 with bonus instrumental tracks.




ROD CLEMENTS
One Track Mind 2008
TRACK LISTING:

HARD TRAVELLING (Woody Guthrie) - THE TRAIN THAT CARRIED MY GIRL FROM TOWN (Frank Hutchison) - BOURGEOIS BLUES (Leadbelly) - TRAIN IN G MAJOR - AIN'T NO MORE CANE - DOWN IN THE FLOOD (Bob Dylan) - ROAD TO KINGDOM COME - EVIL HEARTED WOMAN (Oscar Woods) - MEET ME ON THE CORNER - LEATHER LAUNDERETTE - NO TURNING BACK (studio version) - SNEAKY SUSPENSION - PISTON BROKE AGAIN - LONG VEHICLE - NO TURNING BACK (home version) - A DREAM WITHIN A DREAM - BLUES FOR A DYING SEASON


---
Now all the original 1994 tracks and the additional 2001 instrumentals are available once again, supplemented by two brand new recordings of early songs written by Rod at the beginning of his career in the late 1960s.

The bonus tracks are "A Dream Within A Dream" (performed once by Lindisfarne for a radio broadcast c.1970), and "Blues For A Dying Season", recorded for the unreleased Downtown Faction album c.1969. This will be the first time either of these songs has had an official release.

With a running time of 70 minutes, 'One Track Mind 2008' is a treasure-house of classic slide-driven blues, folk and rock encompassing the career of one of roots music's true legends.