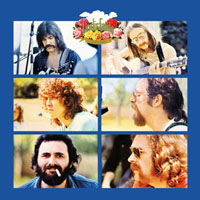 The second release by the Mk II line up of Lindisfarne, 'Happy Daze' - which comes with 7 previously unreleased bonus tracks by Hull recorded prior to the band's formation - features him, Ray Jackson and newcomers bass player Tommy Duffy (ex- Bell & Arc and Gary Wright's Wonderwheel), guitarist Charlie Harcourt (ex-Cat Mother and Jackson Heights), keyboard player Kenny Craddock (formerly with Ginger Baker's Airforce) and drummer Paul Nichols. Complementing this line-up are horn players Buddy Beadle and Steve Gregory.


Production duties were handled by Eddie Offord, best known for his work with Emerson, Lake & Palmer and Yes, and the sound he achieved is full and rounded, complementing perfectly the more commercial, mid-Atlantic direction the band had aimed for.


Market Square's reissue benefits from the label's customary focus on 'telling the story' and includes extensive notes by band expert Jim Henderson, track by track analysis by Tommy Duffy, archive images, and lyrics making for this comprehensive overview possible of a fine yet neglected album.


And then there's the bonus tracks: seven solo demos by Alan Hull, recorded in the late 1960's prior to the band's existence, serve to remind why this perennially popular band came to be one of the most seminal in the history of folk rock.



LINDISFARNE
Happy Daze
TRACK LISTING:
Original album:

Tonight

In Your Head

River

You Put The Laff On Me

No Need To Tell Me

Juiced Up To Lose

Dealer's Choice

Nellie

The Man Down There

Gin And Tonix All Round

Tomorrow



Bonus tracks:

Dingly Dell

Where is my Sixpence?

Do Not Be Afraid

Smile

Picture a Little Girl

Doctor Of Love

Alright On The Night

---
Related>>