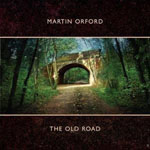 Martin Orford is best-known as keyboard player and main songwriter with legendary progressive rock band IQ, although he's also contributed to albums by Jadis and John Wetton.
This solo album is effectively Martin's swansong as he is leaving the music industry at the end of 2008.
What a way to go! The album features an all-star line-up of John Wetton (Asia). Nick D'Virgillo and Dave Meros (Spock's Beard) and John Mitchell (It Bites/ Arena).
Excellent musicianship, strong songs and melodies - a real treat for fans of classic prog rock...
Jason Ritchie, www,getreadytorock.com
MARTIN ORFORD
The Old Road
Grand Designs
Power And Speed
Ray Of Hope
Take It To The Sun
Prelude
The Old Road
Out In The Darkness
The Time And The Season
Endgame