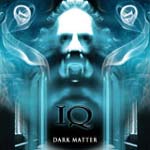 The latest studio album is a return to the attitude and aggression that characterised their earlier works.
This is pure progressive rock with soaring guitar melodies and...mellotrons, Moogs and Hammond organ.
The 24-minute epic 'Harvest Of Souls' is destined to be a favourite with fans.
---
Quite simply the best album the band has ever made and it is a must for all fans of prog rock ...If, like me, you haven't heard much prog rock since the late 80's then this should be high on your shopping list, as the music is even better then the 80's albums.
Jason Ritchie,
IQ
Dark Matter
1. Sacred Sound 2. Red Dust Shadow
3. You Never Will 4. Born Brilliant
5. Harvest Of Souls
---

Harvest Of Souls
---